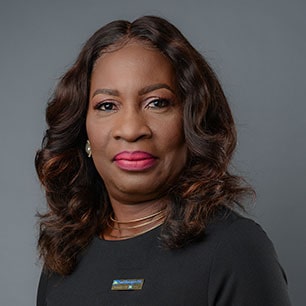 Delories Jones
Senior Vice President Sales Strategy and Marketing
Mrs. Delories Jones joined the JN Fund Managers team in 2007 as Sales Manager, to manage the company's Sales and Service Operations. As a result of the high quality of her performance, she was promoted to Senior Vice President of Sales & Business Development in 2016, to anchor the company's sales, and client relations activities. As a result of her ability to deliver extraordinary results, in 2018, she assumed a new role of Senior Vice President Sales Strategy and Marketing, where she leads several important initiatives in the area of sales and marketing aimed at achieving the strategic goals of the organization.
She brings a wealth of experience to her current Portfolio, with more than 20 years of progressive financial services experience in: sales strategy design and delivery; sales team management; investment portfolio design and management; investor relations and client service design and delivery; as well as marketing, public relations and communications management.
Mrs. Jones always finds the time to effectively advise her clients on their investment portfolios and to brief employees about interacting with their clients, to ensure that "communication does take place."
She is currently pursuing an Executive Masters in Business Administration (EMBA), at the University of the Commonwealth Caribbean. She holds a Diploma in Business Management from the Canadian School of Finance & Management, as well as certificates in Strategic Sales Planning and Portfolio Management.
Mrs. Jones is a member of the Rotary Club of St. Andrew, currently serving as a Director. She is also a member of the Board of Directors of the Junior Achievement Jamaica; Executive Member of the JN Talking Titans (Toastmasters Club); and a past member of the Board of Directors, at The Queens Preparatory School.